01603 721590
Page Generated:
14 Aug, 2020 09:14:56
6-7 Person Hot Tub 38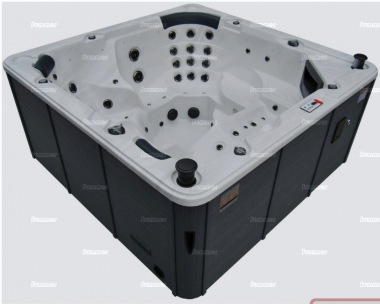 Summary:
Large 6-7 person hot tub, cabinet size 7'6"x7'6", 39" depth, 7 seats, 1465 litres capacity, 60 jets, two 4 Hp pumps, waterfall, composite shell with acrylic surface, no maintenance cabinet featuring pressure treated timber frame and synthetic external cladding, hot air blower, aromatherapy system, ozone water purification system, thermally insulated cover.
Prices fixed until Wednesday 19th August.
| Size | For 6-7 People | Installation and commissioning | On site parts and labour warranty extended to 4 years |
| --- | --- | --- | --- |
| 7'6" x 7'6" | £11,271 | +£469 | +£748 |
Specifications
Seats 6 adults in comfort
Holds up to 7 people with 1 not seated
3 contoured seats
1 lounger seat
3 seat bench (love seat)
Cabinet size 7'6"x7'6" (2280mm x 2280mm)
Cabinet 39" depth (990mm)
Capacity 1465 litres
Durable shell features high gloss resin bonded fibreglass, colourfast, will not fade, chemical and stain resistant, easy to clean, warm to the touch, retains its glossy appearance for years
White high gloss surface finish
48 high pressure stainless steel hydro massage water jets
Adjustable massage jets with fingertip control
Massage jets directed at the back, shoulders, neck, legs and feet
Adjustable massage jets from soft and gentle to a vigorous muscle massage
Adjustable water flow can be directed to specific seats with increased massage pressure
Adjustable water flow can be directed to individual jets to massage different parts of the body at different pressures
12 heated air jets, fast free flowing manifold air injection system, injects thousands of heated bubbles upwards from below the knees, fills the hot tub with tiny bubbles which gently massage your skin
3 Kw water heater maintains a constant temperature
2x 4 Hp 2 speed pump (peak power output rating)
1.5 Hp heated air blower (peak power output rating)
Unsuitable for standard domestic 13 amp electricity supply
Minimum 20 amp electricity supply required
Air can be diverted through the massage jets for increased massage pressure
Aroma therapy injection system
Ozone water purification system uses activated oxygen to disinfect the water and kill bacteria, reducing the amount of chlorine needed
High quality hot tub made in Canada
This hot tub is delivered fully assembled as a complete prefabricated cabinet
High insulation fully foam filled cavity between the shell and the external cladding
No maintenance cabinet featuring pressure treated timber frame and synthetic external cladding made from recycled polyethylene which looks like wood. It even has colour variations just like real wood. However, it will not rot, it does not require painting or staining and it lasts longer than wood.
Thermally insulated cover included
4 moulded head rests
LED perimeter lighting
Backlit waterfall
Automatic freeze protection
Programmable temperature settings
Programmable filtration cycles
Digital electronic control panel allows you to control the jets, lights, temperature and filtration
No plumbing work required
The price of this hot tub includes a 25 year manufacturers structural guarantee of the shell against defective workmanship, defective materials or water loss due to structural failure
The price of this hot tub includes a 3 year non structural parts only manufacturers guarantee of the shell surface against defective workmanship, defective materials, blistering, cracking or delamination
The price of this hot tub includes a 2 year parts only manufacturers guarantee of the plumbing system against leaks
The price of this hot tub includes a 2 year manufacturers guarantee of the equipment supplied with the hot tub including the pump, the heater and the blower against malfunction, defective workmanship or defective materials
Options
Optional installation and commissioning, arranged by appointment with you at the same time as the delivery. The price includes moving your hot tub into position, filling it with water and chemicals, testing the water chemistry, setting the temperature and filtration cycles and giving you a full demonstration of all functions, chemicals and safety factors.
Optional extended 2 year on site parts and labour warranty
Cover lifting mechanisms, choice of 2 types, both can be operated by one person with ease
Steps to ensure safer and more comfortable entry and exit, choice of 2 types
Side handrail, can be used in conjunction with steps for improved safety and comfort
Green or beige parasol, can be tilted out of the way, provides shade for your hot tub
Chemical kit, specially formulated to keep your hot tub running smoothly, includes chlorine tablets, pH reducer, defoamer, filter cleaner, alkalinity increaser, water clarifier, stain and scale inhibitor and water test strips
Aromatherapy kit, full case of aromatherapy crystals, 12 packs, each pack 540g, 12 different fragrances, free scoop included, also available separately by the case either as assorted fragrances or a full case of one favourite fragrance
Pair of booster seats, water filled adjustable cushions for children and small adults
Pair of waterproof pillows, PVC coated foam filled closed pillows
Delivery
EXTRA COVID-19 CORONAVIRUS INFORMATION: This item is currently available within the estimated delivery times below, with no delays. Our delivery times are slower than normal due to unprecedented demand.
Delivery is normally between 3 and 5 weeks after order.
Our hot tub prices include all delivery charges - unlike others we do not add delivery charges during the checkout process.
Ordering/Payment
ORDER ONLINE: You can pay with a debit or credit card. We also accept password protected online payments using Verified by VISA or Mastercard SecureCode.
METHODS OF PAYMENT: We accept most major credit cards and debit cards including VISA, MasterCard, VISA Delta, VISA Debit, MasterCard Debit, Electron, Solo, Switch, Maestro and UK Maestro. We also accept secure online payments using Verified by VISA or MasterCard SecureCode. We do not accept American Express or Diners Club cards at present.
SCHOOLS, COUNCILS AND BUSINESSES: We supply many schools, local councils and businesses both large and small. The prices and terms are the same so you can order online if you wish. If you want to pay by BACS transfer or company cheque please email us.
Installation
Commissioning by specialist trained staff is available as an option.
If commissioning is ordered your hot tub will be delivered and commissioned on the same day by prior appointment with you.
Features and Accessories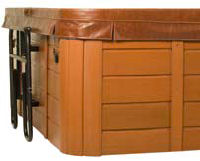 Cover lifter - side mounted

Cover lifter - top mounted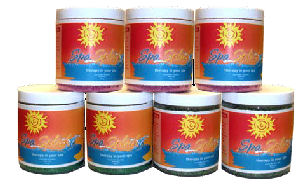 Aromatherapy kit

Other options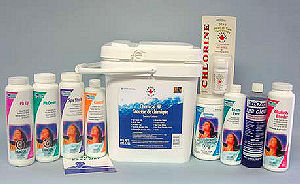 Chemical kit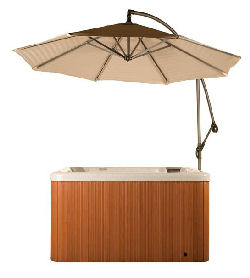 Parasols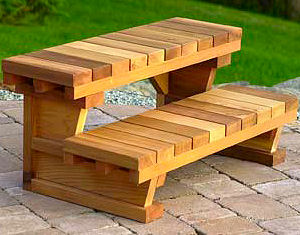 Steps and handrails